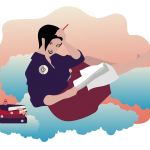 Curious Decisions today is very different to what Curious Decisions was going to be at launch.  I started Curious Decisions with a dream.   It was a dream that if it materialised, and became reality, would change the world.  It was a powerful and beautiful dream, a dream of a better, kinder world where Curious Decisions had played it's part to change marketing, to make marketing great, where the definition of great marketing was that it was marketing that would make people feel better about themselves, that it would be marketing that would be using the power of influence to make the world a better place.  And if the 5000+ marketing messages that we as consumers saw every day, not only reflected the diversity of us as consumers but also implored us to be kinder, nicer, more helpful to each other, then the world would be changed.
It was a dream.  And I was going to make it happen.  Curious Decisions was going to offer Strategic Consultancy – to help corporates, and the agencies they worked with make decisions based on an insatiable curiosity about their customers.  Curious Decisions was going to offer Marketing Capability workshops, to help marketing people improve their marketing skills and understand how to create powerful insights, inspired story-telling and turn strategy into action.  Curious Decisions was above all, going to change the face (literally) of advertising with our Diversity Marketing approach which would normalise difference.
It was a great deal of fun, setting up the company, dreaming the dream.  Less fun though was the things that a start-up can't provide so easily; office camaraderie, laughs, sparking off others' ideas and creativity.  And some of the things that a start-up can provide buckets of, in large measure are quite stressful.  Flexibility is so precious, but the responsibility for your whole day stretching out in front of you, just there, to be filled and so much to fill it with, the choices that need to be made – whilst social media distracts.
I learned a lot, some new skills, some learnings about myself. I learned about Companies House and being a Company Director.  I learned about basic accounts.  I learned some website basics and wordpress.  I learned I'm not a sales person (yes, sales is different to marketing).  Even when I totally believe in the product (and that product is me), I don't want to sell it.  I learned to enjoy networking, for the first time, ever.  Talking about what I was passionate about, in collaborative and supportive environments has given me the impetus to take forward a new project, to create inspiring, supportive learning spaces for women in middle/early senior management within corporates which was always lacking in my previous career.
My biggest learning, and the most impactful part of my adventure was coaching.  I had always known that I loved coaching and Curious Decisions was going always going to feature coaching.  I love helping people, and like Phoebe in that episode of Friends where she is looking for the selfless act, the instant gratification that's possible from when you've helped a coaching client crack a problem, have a breakthrough, achieve their goals, that's what I love.  It's entirely selfish, the desire to help.  I'm hugely grateful that my time with Curious Decisions (which I'd always framed to myself as an experiment) has enabled me to formally pursue my coaching training.  I will shortly be an ICF accredited coach and am an NLP Practitioner.  During this year, I am furthering my NLP studies with Master Practitioner and Train the Trainer as well.
Curious Decisions is evolving.  Dreams can be powerful, but they cannot be achieved overnight (or even, in a 6-9 month experiment window).  Curious Decisions is now reframing itself to achieve the dream at a slower pace. During the 9-5 working week Curious Decisions is now happily undertaking a Curious Assignment which will help marketing people be better at being marketing people.  The Curious Dream to help  people achieve their dreams through coaching, and through delivering personal growth workshops will continue to live, during evenings and weekends.   I'm looking forward to this next iteration.
Read more →